.

Estudio de diseño
de espacios, basado
en el respeto y la
sensibilidad de los
ecosistemas.







Ferviente devota del PLANETA TIERRA y su relación con los ASTROS, de los AMANECERES y LAS PUESTAS de SOL, busco DESCOLONIZAR mi MENTE, para EXPLORAR, desde diferentes FORMATOS, la RECONCILIACIÓN con todos los SERES y los CICLOS NATURALES.

En COCREACIÓN siempre con otros SERES HUMANOS, me muevo entre el DISEÑO de ESPACIOS, la CREACIÓN de EXPERIENCIAS y JOURNEYS. la DIVULGACIÓN de contenido y PRACTICAS que intervienen en la RESTAURACIÓN de los espacios, tanto INTERNOS como EXTERNOS. Invito a CUESTIONAR cuales son los VALORES actuales que afectan NUESTRA manera de VIVIR, que ALTERAN nuestro PENSAMIENTO, incluso, MOLDEAN nuestro CUERPO.
Somos un UNIVERSO de CONEXIONES, estamos dentro de todo lo que hacemos, por eso, cualquier PROCESO INTERNO es una extensión hacia lo EXTERNO.

LA manera en como los humanos INTERACTUAMOS espontáneamente con el MEDIO, "para ENTRETEJER FORMAS DE VER e INTERPRETAR LA REALIDAD", es el motos que me lleva a querer RECUPERAR TRADICIONES PRIMITIVAS y CONECTARLAS con ideas CONTEMPORÁneas, que ayudan a la REGENERACIÓN de los HÁBITATS y nos acercan a un estado de VIDA más SALVAJE.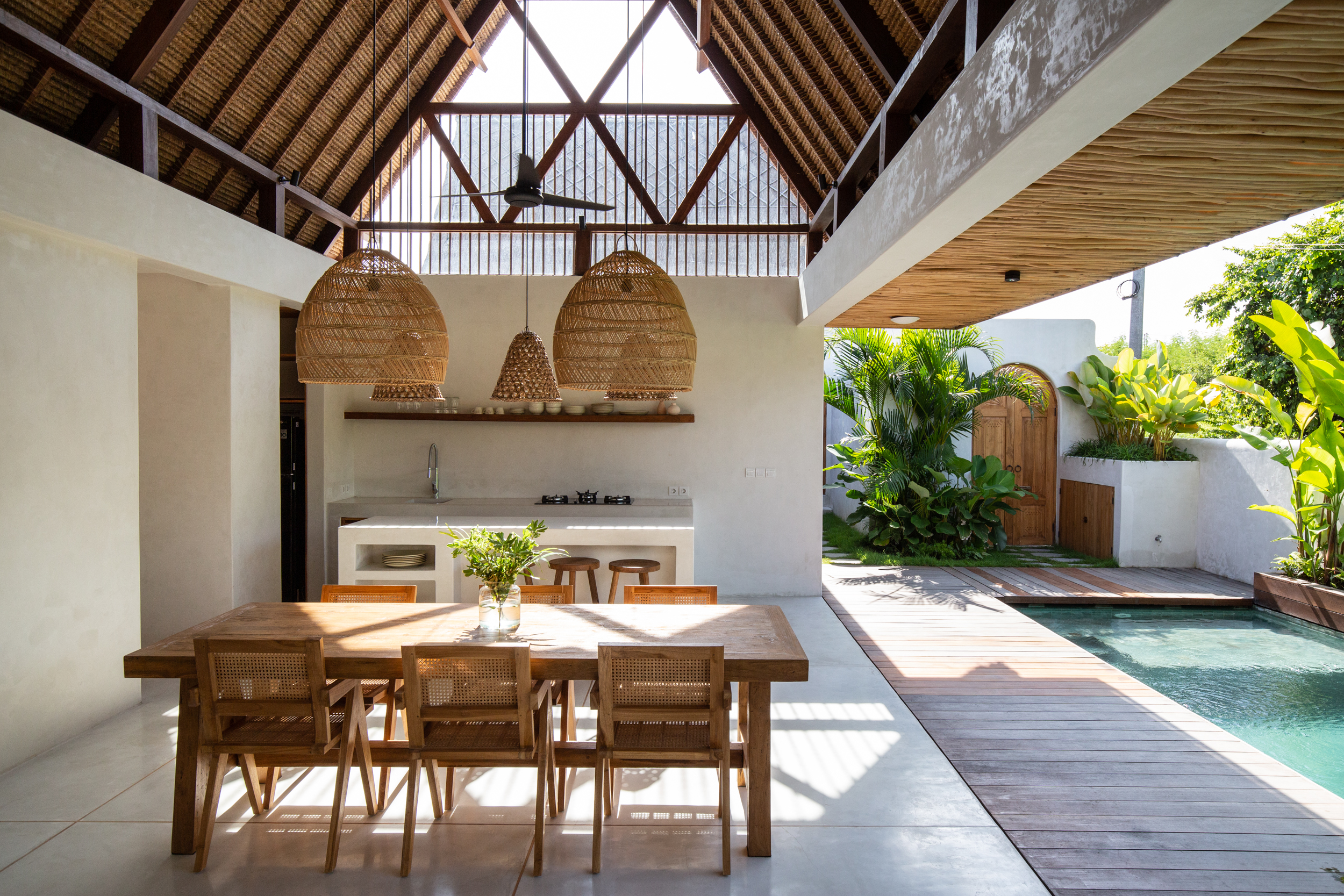 Architecture and Interior Design


2021-

Las Lunas Villas, Bali (Indonesia)
Location: Batu Bulong, CANGGU / Surface: 160m2 (building) 300m2 (total)


With a minimalist tropical architectural style, the Villas have been designed with local materials, seeking a balance between sustainability, environment and design.
They represent a combination of traditional Balinese characteristics, with a contemporary reading, while the influence of Mediterranean culture, the designer's place of origin, is present.
Thus, organically, an eclectic atmosphere has been generated, which mixes different languages, which coexist in harmony.

The project tries to open the spaces to the maximum, integrate them with the outside, letting the garden invade the interior areas, to make guests feel the experience of living on the island of Bali.

The land on which they are located is what shapes the construction of the Villas, so that each one, although sharing the same principle, has a different configuration in the distribution of spaces that, from a minimalist and warm style to the At the same time, they put all the natural materials used to their maximum expression, giving priority to local materials: Wood, Halan Halan for the gabled roofs, bamboo for the flat roofs, lime for the walls and floors.

One of the main motivations of the project is to give the opportunity to join or maintain the independent villas, according to the needs of the guests, in this way the two adjoining villas are separated or joined by an access door.

The garden design has been created using only native species, to allow them to easily adapt to the space.

Each Villa has three bedrooms with en-suite bathrooms and views of the private pool that each one has.